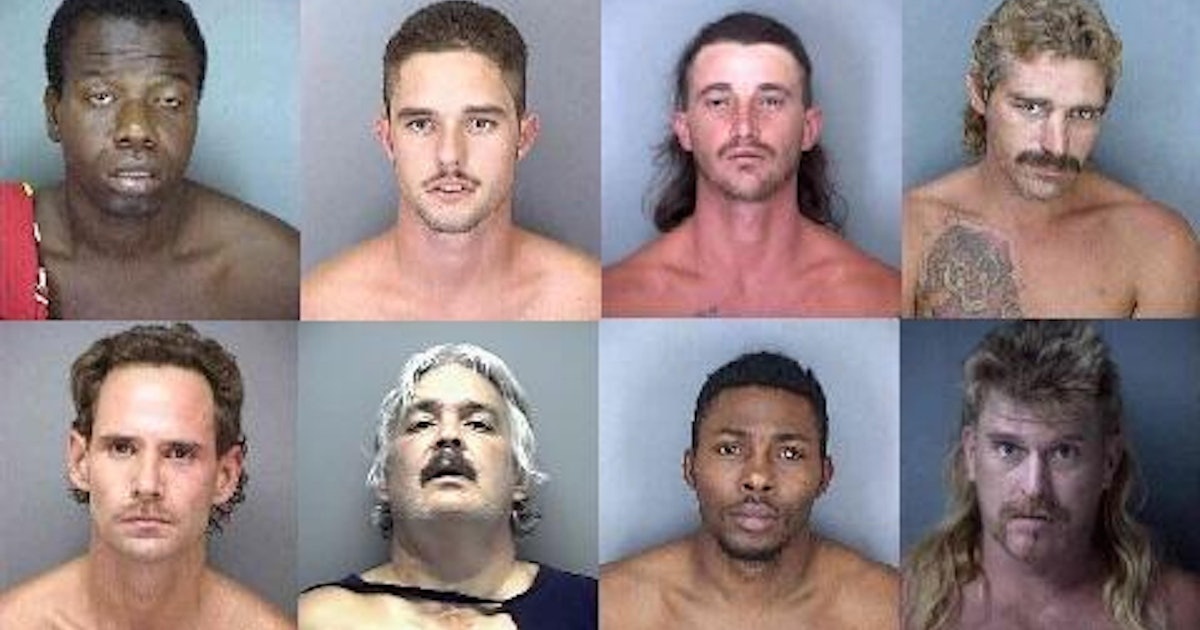 You'd be hard-pressed to find a more perfect caricature of America's wildest, bawdiest and most unintelligible impulses than Florida Man.
As the Internet's most notorious citizen, Florida Man isn't a single person, let alone a single resident of Florida. He's an amalgamation of the characters who populate the ridiculous news stories that often trickle out of the Sunshine State. Florida Man is a raunchier version of the Onion's mild-mannered Area Man, a caricature, with a wink and a nod, to our fellow Americans.
Florida Man is best known for his outlandish conduct, which ranges from the bizarre (carrying a meth lab in his pants) to the terrifying (trying to ignite a "race war" near Disney World). His batshit crazy antics are frequently documented on the Twitter account @_FloridaMan with headlines like "Hospital Nearly Burns Down After Florida Man on Oxygen Tank Tries to Smoke Crack in ICU" and "Florida Man Firebombs Boss' Truck Because Meth."
In short, Florida Man is America's id. And although he hails from the nation's wang, Florida Man embodies America's deepest and darkest desires — and does so with reckless abandon. Jalopnik's Patrick George described him best as "America's worst superhero" in 2013: "Whoever this Florida Man is, he's clearly insane and unstoppable. He feels no pain, has no ethics, and is capable of feats far beyond that of normal American man. It almost sounds like Florida Man is a superhero — just a really terrible one."
As 2014 comes to a close, it's time to salute the best and brightest of this year's class of Florida Men.
1. Florida Man attempts to smoke crack in ICU, almost burns down hospital.
Northwest Florida Daily News: "A 54-year-old man was arrested on Christmas Eve after allegedly taking 'crack cocaine' into the Intensive Care Unit at North Okaloosa Medical Center to share with a patient there.
2. Florida Man flashes buttocks at IHOP after impersonating a police officer to get free food.
International Business Times:  "Matt Skytta, 55, entered the IHOP around 1 a.m. Friday and told a server who asked if he had money, 'No, but I am a cop, and I get food for free,' according to a police report obtained by the Orlando Sentinel . He then threatened to beat up the IHOP server and shouted, 'Hey buddy!' before dropping his pants and exposing his buttocks to the IHOP employee, according to the Sentinel ."
3. Florida Man bites off neighbor's ear because he wouldn't give him a cigarette.
CBS 12: "'I was helping a friend out and someone decided they wanted to take a chunk out of my ear,' said John Ott, the man who says he was bitten. 'This all started because I wouldn't give him a cigarette. He comes up puts me in a bear hug and next thing I know he's biting my ear.' Ott tells CBS 12 News his 'biting' neighbor yells threats across the street continuously. Ott plans to file for a restraining order."
4. Florida man claims wife was kidnapped by holograms.
Huffington Post: "The man, whose name has not been released, was 'extremely agitated' and holding a baseball bat when officials arrived. He told them that 'the men' abducted his wife and that 'they used holograms to project signals on the walls to get him to do what they wanted and to communicate with each other,' according to a sheriff's report.
"The responding deputy located the woman in question, who was at a nearby mobile home with the man's aunt. The aunt told investigators that the woman was drunk, and that no one had chased her."
5. Drunk Florida Man attempts to ride bike through Taco Bell drive-thru, fights with police.
Daytona Beach News-Journal: "According to the report, Taco Bell workers called police at 3:10 a.m. Sunday after Harris and a woman, both intoxicated, would not leave the restaurant. Police found Harris on a bicycle by the menu speaker, a report states. As police were asking Harris to leave, they spotted a red Swiss Army knife on Harris' belt loop and tried to reach for it. Harris grabbed the officer's wrist and Harris was wrestled to the ground and handcuffed. Harris suffered a scraped forehead, police said."
6. Florida Man inches closer to one-way trip to Mars.
ABC Action News:  "A 43-year-old self-employed Tampa man has made it past the first hurdle in a selection process to potentially choose the first team to attempt not only a manned mission to the planet Mars, but its colonization.
"'My heart is there, you know? I want to be a part of this mission,' [he] said. [His] girlfriend said she supports his goal of relocating permanently to Mars. 'If he should go, of course I would be sad, but it's not my style to stand in front of somebody's dream,' she said."
7. Florida Man holds up Domino's delivery man over pizza and wings.
Clayton News Daily: "A Florida man held in Clayton County Jail has been indicted in the July alleged theft of pizza, wings and cash. Prosecutors allege Mack robbed a Domino's Pizza delivery man of pizza, chicken wings and cash at gunpoint July 31."
8. Florida Man escapes adult novelty store with $300 Jenna Jameson doll in tow.
Vincent Sandoval/Getty Images
The Smoking Gun: "The suspect walked up to the counter of the Inner Secrets shop in Vero Beach and asked worker Cathryn Morales 'some questions about the doll.' Following the perp's question time, he 'grabbed the doll off the counter and ran out of the store' without paying for the product.
While the Jenna Jameson doll is not further described by investigators, it appears likely that the stolen item was the 'Jenna Jameson Extreme Doll,' a battery-powered model in the likeness of the 39-year-old porn star. Along with a 'vibrating ultra soft mouth,' the full-size Jameson doll, its manufacturer notes, features 'an exquisite lifelike removable pussy and ass.'"
9. Florida Man steals 850 pairs of underwear from Victoria's Secret.
NBC Miami: "'In November of 2013, [Espinosa] stole 300 pieces of Dream Angels women's underwear,' [a judge] said, reading from a report on the case. Espinosa said he has no money in the bank and has lived in South Florida his whole life. 'Thank you,' the judge told Espinosa as he concluded the hearing. 'Don't come back to Victoria's Secret.'"
10. Florida Man really, really wants to force a jury to watch his sex tape.
Sun-Sentinel: "The South Florida man wants to introduce sex tapes and intimate photographs of himself and his wife as evidence in his criminal trial to try to prove that his marriage was real and not just undertaken for immigration purposes. [He] hopes to undermine the prosecution's allegation that he lied about details of his marriage to a Cuban woman to get permanent resident status here. The 25-year U.S. resident said he has visible proof that the couple had a genuine marriage."
11. Elderly Florida Man caught masturbating in McDonald's parking lot, claims his privacy was invaded.
NBC-2: "When deputies arrived, they found a man — later identified as Spencer Toner — sitting in a Mercedes Benz looking at pornographic pictures on a small laptop while masturbating. The deputy knocked on the window of the Mercedes. Toner immediately shut off his laptop and rolled down his window. Toner told deputies he was there to 'get a bite to eat.' Toner told them he was homeless and living out of his car, [and that] they were invading his privacy."
12. Florida Man attacks nephew over undercooked noodles.
Independent Florida Alligator: "At about midnight at Gardenia Gardens Apartments, Newton's nephew told him the noodles Newton made were undercooked, according to the report. Newton started screaming and shoved him in the face. He went to another apartment in the complex, where Newton followed him. They started arguing again, and Newton rushed toward him with the knife while making slashing motions, according to the report. During questioning, Newton said he had been drinking and said it can affect his demeanor. He said the argument never got physical and denied picking up the knife."
13. Florida Man sets apartment complex on fire after manager told him to stop masturbating in front of windows.
Tampa Bay Times
Tampa Bay Times: "He set the blaze, according to police, to get back at the management of the apartment complex, whom he felt had treated him unjustly. His reason: They had recently told him to stop masturbating in front of his open windows and front door, according to police. He was arrested on a charge of first-degree arson and held in the Orient Road Jail without bail."
14. Florida Man arrested for smoking pot in hospital maternity ward.
Gawker:  "A nurse in the infant delivery unit at Stuart, Florida's Martin Medical Center called cops after getting a 'whiff of spliff,' according to local weird-news blogger Will Greenlee. That's when they found reeky Jupiter resident David Bastin, chillin', after his girlfriend had been admitted to the ward. Bastin got booked in the Martin County lockup on $1,500 bond and charged with possession of marijuana and drug paraphernalia. No word on whether his girlfriend had a boy or a girl."
15. Florida Man calls 911 to check on his tax return.
Tampa Bay Times: "James Mahoney, of St. Petersburg, called 911 while intoxicated and said he was 'messed up.' When deputies arrived, he was still on the phone with the dispatcher. When deputies asked him why he called 911, he said it was to check on his tax return, an arrest report states."
16. Florida Man convicted of burying ex-reporter in concrete for his "Magic: The Gathering" collection.
New York Daily News:  "William Cormier III was so desperate for money that he killed Sean Dugas in the fall of 2012 so he could steal his $100,000 collection of fantasy role-playing cards, prosecutors said. Jurors convicted Cormier of first-degree murder after a little more than an hour of deliberations. Cormier III showed no reaction as the verdict was read. He faces up to life in prison."
17. Florida Man tattoos black widow spider on his face to combat arachnophobia.
Daytona Beach News-Journal
Daytona Beach News-Journal: "Eric Ortiz wanted to face his fears. So he tattooed a black widow spider on his face.
"'Everybody fears spiders,' Ortiz said. 'That's why I got it. Just to, like, make me know, that that's what I fear, but not to fear it. You know what I'm saying?' Ortiz, 24, of Deltona, talked about his spider tattoo after appearing in court on a felony charge of driving while license revoked (habitual) at the Volusia County Courthouse in DeLand."
18. Florida Man sent to jail after pouring hot sauce on 3-month-old puppy.
Tampa Bay Tribune: "Officers Jessica Sullivan and Adam Arena washed Gizmo with water and a towel, police said, and the dog was turned over to Animal Services. Gizmo is expected to recover. Officers contacted Myles and they saw a lot of hot sauce on the floor, police said, to which he denied any connection."
19. Florida Men attack ice cream man who wouldn't take $20 bill for pickled sausage.
News 13: "The victim told detectives three men tried to pay for a pickled sausage with a counterfeit $20 bill. When the ice cream man questioned him, he said they pulled out a gun. He tried to wrestle away the gun, but one of the men struck him in the eye."
20. Florida man arrested after urinating on in-law's carpet during Thanksgiving gathering.
Times of Northwestern Indiana: "Norfolk began shouting and told the officer he was kicked out of the nearby home of his girlfriend's brother-in-law. According to police, the brother-in-law said Norfolk was escorted out of the home after urinating on the living room floor.
After continually shouting obscenities, Norfolk was taken into custody and was taken to Porter County Jail where he was charged with resisting law enforcement, disorderly conduct and public intoxication."
21. Florida Man pokes girlfriend in the eye after she served him waffles instead of pancakes.
Gainesville Sun: "James E. Irving Jr., 44, got into a fight with his live-in girlfriend over his birthday present and preferred celebratory breakfast, according to a Gainesville Police Department booking report. Irving wanted pancakes and instead got waffles. To express his disdain, Irving poked his girlfriend in the eye, which prompted a call to the Police Department, the report states."
22. Florida Man attempts to leave store with chainsaw stuffed down his pants.
New Port Richey Patch: "The incident in question unfolded before the video cameras at Treasure Coast Lawn Equipment in Port St. Lucie Oct. 28. The daring shoplifter is seen on video stuffing the ill-gotten goods down the front of his shorts and covering up his stash with his shirt. The man then waltzed out of the store, got on a bicycle and rode away. Port St. Lucie Police caught up with the man about 30 minutes later when he attempted to return it to the store after having a change of heart, TC Palm reported."
23. Florida Man offers police officer $3 and chicken dinner for sex.
News 13: "A female investigator went undercover and posed as a street level prostitute. During the operation police said one of the suspects, Steven Torres, offered to trade $3 and a chicken dinner for a sexual act."
24. Florida Man resists arrest while dressed in Boy Scout costume.
Orlando Sentinel:  "Twenty-four-year-old Eric P. Fagan, dressed as a Boy Scout for Halloween, was arrested for resisting an officer without violence early Saturday morning, according to Orlando police. Police also say he was likely intoxicated. When the officer asked Fagan why he was facing the wrong direction, he denied it, the report said."
25. Florida Man probably regrets wearing this T-shirt.
26. Florida Man, once arrested for fighting drag queen with a tiki torch while dressed like KKK member, now running for mayor.
Broward Palm Beach New Times: "Boyd's own case breaks down to what he says is an inaccurate perception among law enforcement that he was an aggressor in the fight with the drag queen. Actually, Boyd says he was just defending himself, and in November, he's scheduled to go to trial on the assault charge. In the meantime, Corbin has thrown his hat in the race to unseat current Wilton Manors Mayor Gary Resnick."
27. Florida Man tries to avoid court appearance by claiming he has Ebola.
Washington Post: "'Deputy,' the judge said, 'this gentleman has claimed he has Ebola.' The deputy responded with an expletive before following the judge's suggestion to clear the room of everyone but Britton. As the other inmates walked out, Britton told the judge that an officer took his Ebola claim 'out of context.'"
28. Florida Man steals 36,000 pounds of Crisco.
Tampa Bay Times: "In addition, police said thieves broke into another trailer carrying boxes from the Amazon distribution center in Ruskin. A number of boxes were opened and their contents removed, but it was not immediately known what items were stolen."
29. Florida Man caught with "active" meth lab in his pants.
Fox 10 TV
Fox 10 TV: "Authorities received an anonymous call stating a subject was present that possessed methamphetamine. During their investigation, officers discovered an active 'One-Pot' meth lab in the pants leg of 23-year-old Ian Freudenriech of Defuniak Springs."
30. Tar-smeared Florida Man arrested on convenience store roof at 3 a.m.
Daytona Beach News-Journal:  "Officers were called to the closed business by a witness who heard a strange noises like whistling, snorting, a torch sound and rattling fence coming from the back of the business, police said.
"When police arrived, they saw Holoman on the roof, covered in tar. He first said he was visiting family and then changed his story, saying he was an air conditioning technician trying to fix the units because he could hear them making noise from the ground, the report states."
31. Florida Man accidentally butt-dials 911 while cooking meth with his mom.
The Smoking Gun: "A police operator stayed on the line for nearly half an hour listening to them 'talking about making and selling methamphetamine,' according to a police report.
"The operator, cops noted, also detected a 'bubbling sound as if something was cooking.' During the 911 call, the police dispacther reported, a man who identified himself as 'Tommy' stated that he was on probation and complained that a police official 'had been watching him.'"
32. Florida Man arrested for punching 80-year-old man at Applebee's.
Daytona Beach News-Journal: "Harry Sander was having drinks at the Applebee's bar Sunday night about…